Bio
---
Ok. so what kind of idiot would spend roughly 10 hours a month putting together a little 2-hour podcast on music that hardly anyone outside of Texas even knows about?
One without much of a life, right?
Or somebody who really cares about this music and wants to expose it to as much to the world as possible?
Wel, I'll let you decide.
(Sorry, this is my site, I pay for it, so I'm gonna be a little self-serving.)
My name is Dennis Ray Svatek, Jr. I was born in Wharton, Texas in 1966, which currently makes me 56 years old.
A little family history:
My grandfather, Frank (Papa) Svatek, was born in Shiner in October 1903, his parents had immigrated to Texas from Bohemia in May of that year. As both he and his wife Rose were full-blooded Czech, that makes my dad 100% also and that leaves 50% for me, a 3rd generation Czech-American. I grew up in Boling and then Newgulf, my dad worked for TexasGulf, a sulphur-mining plant. Newgulf was a "company town", everybody that lived there worked for TG.
Here's a link to a neat historical page on Newgulf and TG, check it out, definitely a relic of the past.
http://www.newgulftexas.com/
Anyway, from my birth until I was 8, when my parents divorced, I pretty much heard Texas Czech polka music non-stop. My dad would get up early on Saturdays, pretty much the one day he wasn't out climbing oil rigs, and make coffee for him and breakfast for me and my brothers, usually biscuits, and he'd always have polka music blaring from the radio on the counter, all the polka shows from Wharton, Bay City, Rosenberg. His truck was filled with 8-tracks of the Pateks, Lee Roy Matocha, the Majeks, along with tons of great classic country, Loretta Lynn, Charley Pride, Merle Haggard, Hank Williams, Ray Price, a lot of the same artists our band covers now. So that's where my love for this great music started.
After my parents split up, I pretty much lost touch with Czech music for a long time, every once I'd hear it if I went to a wedding or anniversary. However, I did start playing the trumpet, when I was 10, so that would make 38 years of playing as of today. I was pretty good, I'll admit. Eventually my family wound up in Sealy, near Houston, that's where I graduated high school from, and where most of my friends are from, even though we've all basically moved away.

I was first-chair from my sophmore year on, mainly due to the tutelage of one of my best friends and mentor, and one of the finest trumpet players I've ever seen, Willie Strieder. Willie played with Lee Roy for a while (he's on LR's 86' album "By Popular Demand") when he was getting his music degree from Univ. of Houston, and he just retired as the long-time trumpet instructor at Texas Tech. Anyway, I made all-Region and Area, State Solo and Ensemble, all that biz. (Believe me, I'm actually going somewhere with this).

So, because of all this, in 1983, when I was a senior in high school, we had an 80th b-day party for Papa in New Taiton, and the Bobby Jones Orch. (now Bobby Jones Czech Band) was playing, and my dad dragged me up to the stage, announcing that I was pretty good and wanting to know if I could sit in (his idea, not mine). I could tell they were skeptical (hey, if you play in a band, you know what I'm talking about). Anyway, I sat in, played a couple of pieces, apparently did all right. Bobby asked me if I wanted to sit in with them in Sealy the next weekend, I said sure. After that weekend I was asked to join the band, which I did. So there was my "re-introduction" to Czech music.

We had a really hot band for a while, I learned a helluva lot, and had some really great teachers, Papa Joe and Teresa Zetka, their son Joe Jr. ("Jo Jo", one of the finest and multi-talented musicians I've ever met, whether it be guitar, sax, trumpet, button accordion), drummer Harvey Fajkus (salt of the earth, and one of the best in Texas). We had a lot of really good times, and for a while I think we could go toe-to-toe with any band in the state.

After I graduated high school I moved to Austin to attend UT, majoring first in computer science and then music edutation. I played with Bobby for a few more years, but eventually it just got to be too much of a hassle, driving to Houston every weekend, so I quit after about 5 years.

While at UT I met and in 1989 married my beautiful and supportive wife, Marcie, who is truly the one person that keeps me going at times. In 1991 our daughter Courtney (now 23) was born, soon after we moved to Taylor, where we are now, and in 1994 (on D-Day yet) our son Stephen (now 20) was born.

Also, in 1994, I got a call from John Ondrusek, who had just left the Zetka Polka Band, asking me if I'd be interested in playing again. I said sure, and the Dancehall Boys were born. We had a lot of really lean times for a while, and went through a lot of changes, before finally getting our line-up set, with Danny Gerik joining us on trumpet (1995), Dave Bedrich bringing his trumpet along (1996), Thomas Durnin on bass and Joe Morris on drums (both 1997), along with tremendous help from Mark Rebecek (1997), who had drummed for the Pavelka Orch. and the Bay City Dutchmen, among others. Again, for a while, I think we could hold our own with just about any band in Texas.

As most people know, John retired in the summer of 1999, and for a myriad of reasons, we decided that we would go on, but under a different name, the Czech Melody Masters, which pretty much brings up to the present.

So, just what the hell does all this have to do with the polka show?!! Well, I really think all of these experiences have helped shape the kind of show I want to do, and that I hope all of you out there want to hear. It took me playing in a band to re-acquaint myself with this great music, which I truly feel is an international treasure, unlike any other music in the world. I think my many years of music education have helped me to recognize what is good and what isn't, and to try to bring you all the best and highest quality music I can. Pretty much all of the music I feature on the show I copied from John's collection, so I thank him for that. Dave and Thomas really opened my eyes to the sincerity and vitality of those earliest of Czech bands, the Bacas, Adoplh Hofner, those great early Patek 78's.
So pretty much all of that has shaped my views and attitudes about what this show can be, and what it should be. Hopefully you will get the same satisfaction out of listening to it as I do in creating it.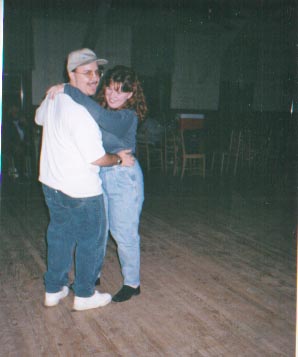 Here's Marcie and I enjoying the great
wooden dance floor at the Beyersville SP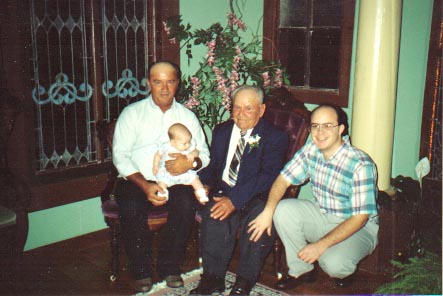 My dad (Dennis Sr.), daughter Courtney,
Papa Frank and yours truly, 1991

The picture says it all!!!
Papa Joe Zetka, Teresa Zetka, Joe Zetka Jr. (Jo Jo), me again, Bobby Jones,
Henry and Lil Underwood (two or our biggest fans) and Harvey Fajkus

The loves of my life!
Courtney, Marcie and Stephen



Home History Polka Show Links E-Mail