Bookings
---
Howdy!
First of all, thank you so much for for your interest in our band, we certainly appreciate it.
So, what are you looking for? A band for your church picnic?
Dance club, maybe? Oktoberfest?
We've got you covered.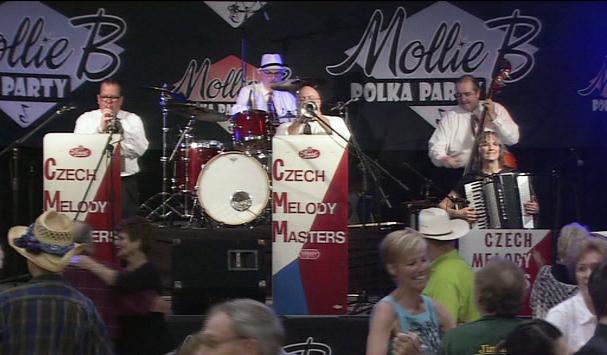 Czech Polka Band/Dance Clubs
If you are looking for a polka band for your picnic, or a Saturday night or Sunday afternoon
dance, we can give you just what you need. Check out our song list below, we're adding "new"
songs all the time. One of the main things we pride ourselves on, and that we've gotten
tons of compliments about, is that we sound and feel just like the "old bands".
We don't play too loud, we don't play too "busy", if you are looking to dance
we play just the right tempo. I've been doing this since 1983, I can definitely
gauge a crowd and tell exactly what they want.
As you can see from below, we specialize in Czech polkas and waltzes, we also do
old, classic Country & Western/Western Swing, as much or as little as you want.
Oktoberfest
So, you need an "oompah" band for your Oktoberfest?
We can do that.
I'll tell you right up front, no, we don't dress up in silly costumes,
no lederhosen or yodeling hats with feathers in them.
What we do is give you fun, high-energy music, that people can dance to or just
have a good time while they swing their beer steins back and forth.
Even though we're a Czech band, we do plenty of German numbers, and unlike lots of bands,
we actually sing in German! I personally am Czech, but I respect the German
music tradition, and if I'm going to play German songs, I'm going to do them
as authentically as possible. Check out our song list below, those are just some of the
German/bierhalle "fun" tunes we do, we also throw in some dance stuff because there
are always people that want to do a two-step or something like that, and
we'll mix some Czech numbers in as well, but the way we play them,
they all fit right in. We've done Oktoberfests in Fredericksburg,
Zelick's in San Marcos. Bluebonnet Beer Co. in Round Rock, Banger's Sausage House,
Gingerman Pub, Scholz Garten in Austin, private parties, even up in Snowbird ski resort
in Salt Lake City! We have to turn down people every year, so the sooner you contact us,
the more likely we're available.
To talk further about booking our band, you can contact me at:
Dennis Svatek
2100 Mildred Dr
Taylor, TX 76574
512-695-1065
dennis@czechpolka.com
Or contact:
Dave Bedrich
512-917-3199
the_swingsters@hotmail.com
Czech Polka and Waltz Library
(We're adding "new" songs to this all the time, if you have a special request,
let us know!)
| | | |
| --- | --- | --- |
| A Ja Sam Polka | From Tabor to Us Polka | Oh Meadow Polka |
| Across the Texas Plains Polka | Gander (Haj Jusicky Haj) Polka | Oklahoma Waltz |
| Annie & the Foreman March | Garden Waltz | Once on a Sunday Waltz |
| Arise My Darling Polka (or Waltz) | Green Meadow Waltz | Orphan Waltz |
| Around the Moon Polka | Grinder's (Nemelem) Polka | Our Katy Polka |
| Ashes of Love Polka | Gypsy Polka | Our Mike Polka |
| At the Dance Waltz | Happy Go Lucky (Strasidlo) Polka | Owl Polka |
| At the Mill March | Happy Joe Waltz | Parents Don't Be Angry Waltz |
| At the Spring Waltz (U Studanky) | Hastrman Waltz | Play Me a Polka |
| Austin Waltz | Headache (Boli, Boli) Waltz | Prune Dumplings Polka |
| Baby Doll Polka | Husar (Cavalry Soldier) Polka | Red and White Waltz |
| Bandleader Polka | I Lost My Vest (Kajdu) Polka | Red Beer Polka |
| Beautiful America Waltz | If I Were a Bird Polka | Red Raven Polka |
| Before I Met You Waltz | Julaida Polka | Red Rose Polka (or Waltz) |
| Behind the Blacksmith Shop Waltz | Koline, Koline March | Red Wine Polka |
| Black Crow Polka | Lazy Farmer Waltz | Rosalinda Waltz |
| Black Gypsy Waltz | Little Goose Polka | Shiner Song Polka |
| Blue Eyed Dolly Waltz | Little Tavern Waltz | Shining Sun Waltz |
| Blue Skirt Waltz | Long Road to Praha Polka | Snowflower (Katy) Polka |
| Carpenter's Waltz | Looking For My Sweetheart Waltz | Starlight Waltz |
| Cheer Up Sweetheart Waltz | Lover's Polka | Teardrops Waltz |
| Clock on the Steeple Polka | Maybe Yes, Maybe No Waltz | Tick Tock Polka |
| Clover by the Water Polka | Mountain Valley Waltz | Waiting in the Woods Waltz |
| Corn Cockle Polka | Musicians Come Out & Play March | Westphalia Waltz |
| Cradle Polka | Muziky Muziky March | Wild Goose Waltz |
| Dreamboat Waltz | My Angel Polka | Yesterday Was Sunday Two-step |
| Dreamland Waltz | My Darling Waltz | Garden Waltz |
| Drunken Wigmaker Waltz | My Little Girl Polka | Seven Step Polka |
| Fire Brigade Polka | My Pony Polka | Schottische Medley |
| Fisherman's Love Waltz | Oaken Leaf Polka | |
German/Oktoberfest Specialties
(again, we're adding tunes all the time)
* = sung in German
| | | |
| --- | --- | --- |
| Anneliese Polka | In Munchen Steht Ein Hofbrauhaus Waltz* | Waltz Across Texas |
| Apples, Peaches, Pumpkin Pie Polka | Liechtensteiner Polka* | Wooden Heart Polka* |
| Beer Barrel Polka* | No Beer Today Polka | The Chicken Dance |
| Edelweiss* | Prune Song (We Left Our Wives at Home) Waltz | Ein Prosit |
| The Eyes of Texas Polka | Rollin' In My Sweet Baby's Arms Polka | Garden Waltz |
| Fly Me to My Homeland Waltz | Schneewalzer (Snow Waltz) | Seven-Step Polka |
| German Waltz Medley* | Schnitzelbank (sing-along)* | Herr Schmidt |
| Good Ol' Mountain Dew Polka | Sick, Sober & Sorry Waltz | Put Your Little Foot |
| Happy Wanderer Polka* | So Ein Tag Waltz* | Ten Pretty Girls |
| In Heaven There is No Beer Polka* | Swiss Boy Waltz* | Sailor (two-step)* |
Classic Country/Western Swing
(yep, always adding new music)
| | | |
| --- | --- | --- |
| A Six Pack to Go (Hank Thompson) | Have I Told You Lately That I Love You (Gene Autry) | Something Special (George Strait) |
| All of Me (standard) | Heartaches by the Number (Ray Price) | Spanish Eyes (standard) |
| Amarillo By Morning (George Strait) | I Can't Help It (If I'm Still in Love With You) (Hank Williams) | Take These Chains From My Heart (Hank Williams) |
| Before the Next Teardrop Falls (Freddy Fender) | I Don't Care If the Sun Don't Shine (Buck Owens) | Then I'll Be Happy (Jimmy Heap) |
| Blue Eyes Crying in the Rain (Willie Nelson) | I Lie When I Drink (Dale Watson) | Then I'll Keep On Loving You (Hank Thompson) |
| Blue Hawaii (Don Ho) | I'll Be There (If You Ever Want Me) (Ray Price) | There Won't Be Anymore (Charley Rich) |
| City Lights (Ray Price) | I'll Hold You In My Heart (Eddy Arnold) | There's a Tear in My Beer (Hank Williams) |
| Cold, Cold Heart (Hank Williams) | It Makes No Difference Now (Bob Wills) | This Song is Just For You (Jimmy Heap) |
| Crazy Arms (Ray Price) | Jambalaya (Hank Williams) | Time Changes Everything (Bob Wills) |
| Crying Time (Buck Owens) | Jole Blon (standard) | Walk Through This World With Me (George Jones) |
| Crystal Chandeliers (Charley Pride) | The Key's in the Mailbox (Freddie Hart) | Waltz Across Texas (Ernest Tubb) |
| Deep Water (Bob Wills) | Mansion on the Hill (Hank Williams) | Warm Red Wine (Ernest Tubb) |
| Don't You Ever Get Tired (Of Hurting Me) (Ray Price) | My Shoes Keep Walking Back to You (Ray Price) | Welcome to My World (Eddy Arnold) |
| Each Night at Nine (Floyd Tillman) | My Wife Thinks You're Dead (Junior Brown) | When My Blue Moon Turns to Gold (Ray Price) |
| Fraulein (Bobby Helms) | (There's a) New Moon Over My Shoulder (Moon Millican) | The Wild Side of Life (Hank Thompson) |
| From a Jack to a King (Ned Miller) | Pass Me By (Johnny Rodriguez) | You and Me (Kitty Wells/Red Foley) |
| Goodnight Irene (standard) | Price (Ray Price) | |
| Half as Much (Hank Williams) | Release Me (Hank Thompson) | |
| Hang My Picture in Your Heart (Eddy Arnold) | Sail On Silvery Moon (Billy Vaughn) | |
| Harbor Lights (standard) | San Antonio Rose (Bob Wills) | |