Bio
---

(Photo courtesy of Gary Mckee at Polkabeat.com)

Bringing together over 100 years of combined musicianship, the Czech Melody Masters are proud to bring the best in Czech polka and waltz music to Texas and the world via live performances, recordings and the World Wide Web.
The Czech Melody Masters originally were formed in 1994 as the Dancehall Boys. During the 4 1/2 years that the Dancehall Boys were together, the band won the prestigious Horizon Award for Best New Polka Band from the Texas Polka Music Awards. The band also performed at Texas' permier Czech dancehalls and festivals, including Westfest, Caldwell Kolache Festival, National Polka Festival at Ennis and the world-famous South by Southwest Music Festival in Austin. The band also released 3 albums, Behind the Blacksmith Shop, Back to Moravia and An Evening in Dubina.
In 1999, the band reformed as the Czech Melody Masters. Since then, the band has performed all over Texas and beyond, including 3 trips to the National Polka Festival at Ennis, as well as performing at such esteemed events as Westfest, Caldwell Kolache Festival, the world famous South by Southwest Music Festival, Oktoberfest at Snowbird Ski Lodge in Salt Lake City, and the grand re-opening of the historic Bill Mraz Ballroom in Houston.
Since their formation, the band has always strived to emulate the classic brass band sound of such beloved Texas bands as the Bacova Ceska Kapela, Adolph Pavlas, and the Joe Patek and Lee Roy Matocha Orchestras. In addition, the Czech Melody Masters strive to push their music back in time as well. Rather than use the standard repertoire of most bands, the band tries to present songs in their original, full format, often using old faded music scores or scratchy 78 records as a guide. The result is a book full of songs the way they used to be played, yet performed with today's energy.
The band is anchored by original members Dennis Svatek (lead trumpet, lead vocals and music arranger), Dave Bedrich (trumpet and vocals) and Thomas Durnin (stand up bass). The sound is rounded out Frances Barton on accordion, Rob Schmidt on drums, and our newest member, Stephen Svatek on baritone and guitar
The band has released four albums: "Old Tyme Radio Favorites" (2000); "Live Across Texas" (2004); "Live at Saengerrunde Halle" (2012) and "Czech, Please!" (2015). The Czech Melody Masters also have the honor of being the first Czech polka band on the Internet, all the way back in 1997.
Members include:

Dennis Svatek
Trumpet, vocals, music arranger, webmeister
E-mail

Dave Bedrich
Trumpet, guitar and vocals

Thomas Durnin
Stand-up and electric bass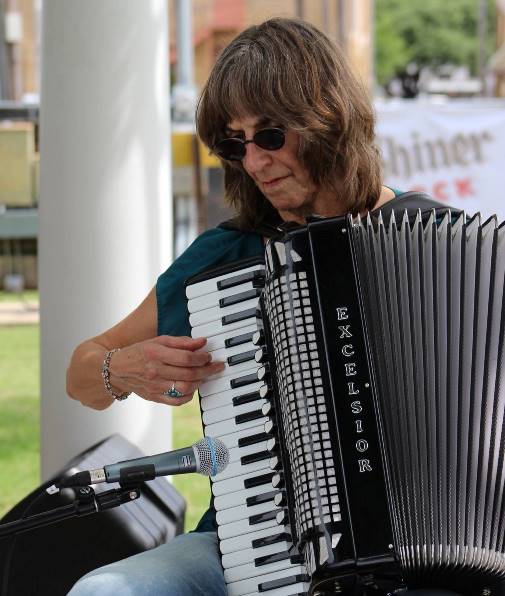 Frances Barton
Accordion

Rob Schmidt
Drums

Stephen Svatek
Baritone, guitar